Integrating your goalkeeper into soccer team training sessions will improve team chemistry, strengthen the cohesion between the goalkeeper and outfield and train your defense to concede fewer goals
Finally, it's here! Your comprehensive guide on how to manage soccer team training sessions so you can fully integrate your goalkeeper and solve the 'goalkeeper dilemma'. No longer will they be left to train on their own or with a specialist coach because Team Training the Goalkeeper details more than 40 different team training exercises you can use to include the goalkeeper so you can build a stronger team strategy and a tighter defense
Dear Coach,
In too many soccer training sessions goalkeepers are marginalized. Whether it's due to lack of manpower, resources or equipment, goalkeepers are often left in their own corner of the pitch to warm-up and train on their own or with a specialist coach. Whilst the goalkeeper has a unique skill set, leaving them to train separately can isolate them from other players and there might be gaps in your team's organization that will go unnoticed until they are revealed in real games.
There are many benefits to integrating goalkeepers into team soccer training: It can improve team chemistry, improve the link up play between the goalkeeper and outfield players and vastly improve the performance of the goalkeeper themselves.
Drawing on over 20 years of experience coaching soccer teams at every level of the game in the US, John Murphy has written this special book Team Training the Goalkeeper which analyses and explains how to integrate the goalkeeper into team training sessions. Through over 40 soccer drills, exercises and small sided games, Murphy shows you exactly how to run progressive team training that will get your goalkeeper training with the team throughout, from the initial warm-up right through to game time.
"I have had a chance to look through the book, and it is really awesome.
I like the approach that was taken in writing it, and think that there is massive value in working with coaches to understand how to train with and use the goalkeepers in team training sessions. I will be using examples and ideas from this book when educating our club coaches, and working with our elite teams. This book will be a valuable part of any coaches library, and can easily be referenced anytime you are looking for activities to engage and excite your whole team."
Barry Morrison – Club Head Coach, Fredericton District Soccer Association
"A book that incorporates all the latest innovative approaches to modern goalkeeping"
The soccer drills and exercises in Team Training the Goalkeeper incorporate the very latest methodology and thinking on how to coach goalkeepers to cope with the demands of the modern game. This includes:
The goalkeepers role in quick counterattacking play
Distribution techniques to the outfield, rather than 'hit and hope' punting
Stances in 1v1 situations, rather than wildly diving at the attacker's feet and risking a penalty
Coaching goalkeepers in 'deflect and catch' mechanism for crosses and high balls
Whether you coach youth soccer teams, college or at the elite level, the soccer drills and training exercises in this book will enable you to observe and diagnose the goalkeeper's performance in responding to these modern challenges and to make improvements through the correct team orientated soccer drills. You simply cannot gain this insight when the goalkeeper is training alone.
 "A comprehensive guide to integrating goalkeepers into team training that is written by a soccer coach with over 20 years experience"
Over the last two decades, John Murphy has coached at all levels of the game in the US and abroad as a goalkeeper specialist, staff coach and manager.
Murphy's professional coaching career started at Massasoit CC (MA) and Brown University (RI) before progressing to become Head Coach at
Assumption College (MA). During his tenure at these teams all three won championships, with Murphy being awarded six all-league or regional Coach of the Year awards, along with two NSCAA National Coach of the Year nominations (1994 and 2000).
Murphy then took the step up to the MLS, helping the New England Revolution to qualify for three playoffs (2000, 2002, and 2003), win the 2002 Eastern Conference Championship and qualify for the 2003 CONCACAF Champions Cup. In 2004, Murphy then left to coach at the Columbus Crew, assisting the team to win the MLS Supporter's Shield and the Eastern Conference Championship, with the second best goals per game average in the league. Murphy was also on the staff of two different coaches that won MLS Coach of the Year awards, namely Steve Nicol in 2002 and Greg Andrulis in 2004.  From 2005 to 2008, Murphy moved to become Assistant Coach and Director of Player Development at the Colorado Rapids.
In 2009 John became the first American born coach to work in British football when he joined Livingston FC of the Scottish 1st Division. While serving as head coach for two months, John oversaw a dramatic 2–1 victory over English Championship side Plymouth-Argyle.
Now at Clemson University, Murphy's coaching qualifications include the UEFA Professional Badge from the Scottish Football Association, a U.S. Soccer "A" License and the NSCAA Advanced National Diploma. Murphy is also the first foreign born coach to earn a UEFA "A" Goalkeeper Coaching Badge from the English Football Association.
"This book is a clearly written explanation of goalkeeping techique and tactics.
Coaches can often overlook the goalkeeper in their training sessions. This book has excellent sessions for incorparating the whole team and it keeps the goalkeeper moving all the time. It's perfect if you don't have a goalkeeping coach at your club. A must read for any up and coming coach or an experience coach looking for fresh ideas."
Paul O'Keeffe Coach U13's HHFC Ireland
What's included in Team Training the Goalkeeper
Team Training the Goalkeeper gives you a progressive series of soccer drills and training exercises with which you can integrate the goalkeeper into every training session:
Weekly Training Rhythms – Guidance on devising a soccer training plan for the season or just the next training session, so you can develop a training rhythm that will take your team forward.
Goalkeeper and Team Warm-up – Rather than being left to do warm-ups for 30 minutes on their own, this chapter provides 12 routines that integrate goalkeepers into the team dynamic and can develop their role as a leader in the team.
Functional Training – Team Training the Goalkeeper covers 14 exercises for isolating training to specific situations that can arise in the game involving the goalkeeper. Rather than simply setting up long lines for shooting practice in which the goalkeeper has little chance of success, these functional exercises present scenarios from different areas of the final third.
Possession – In today's modern game, the goalkeeper is an integral part of maintaining possession and as an outlet as a 'free player' on the pitch. These exercises will establish the goalkeeper's role, improve their sharpness and enable them to stay connected with the game.
Small Sided Games – These game setups are designed to improve shot handling and training the goalkeeper to deal with pullbacks and crosses.
Phase of Play – Acting as the bridge between small sided games and the full game, these five soccer training scenarios will teach your team how to properly manage situations when the goalkeeper might be vulnerable and to focus on the awkward situations a functional drill or small game cannot.
Sample Page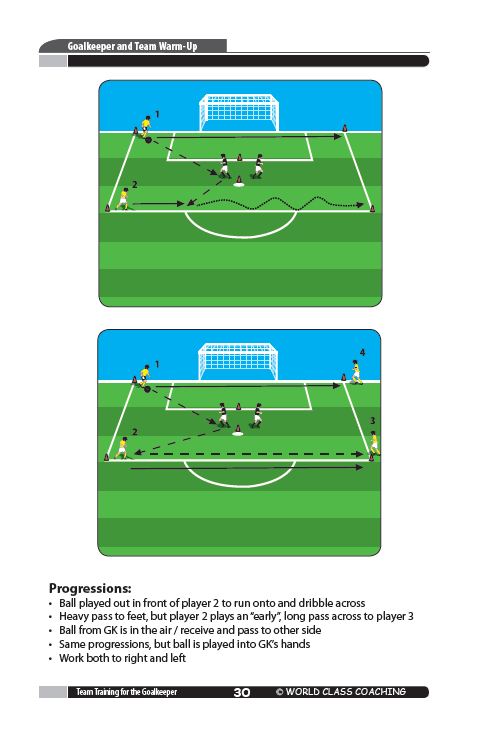 What you will gain from Team Training the Goalkeeper
Team Training the Goalkeeper offers many benefits for the entire team, as well as the goalkeeper:
Improved team chemistry
Better understanding between the goalkeeper and defenders
The ability to properly observe the goalkeeper's performance in a variety of scenarios
A goalkeeper and defense that's properly drilled in the modern demands of the game
Improved distribution from the goalkeeper to the outfield for improved possession play, instead of long kicks up-field
Improved team shape with passing and movement built from the very back
The goalkeeper's match performance will dramatically improve from being given the opportunity to prepare and practice for the variety of situations that can occur in a game, rather than just shot stopping
Your goalkeeper will have the opportunity to develop a leadership role within the team
When the outfield is playing badly then soccer training sessions will be swiftly adapted to focus on improving the areas where the team is weak. But when goalkeepers are underperforming then rarely are team drills incorporated to help them improve. This is where Team Training the Goalkeeper can be most valuable. When your goalkeeper is integrated into soccer training then  the whole team can also improve through performing more cohesively. Your goalkeeper and defense will make fewer mistakes and you will concede fewer goals and win more matches. It's that simple.
100% 'no quibbles' 6 Month Money Back Guarantee
WORLD CLASS COACHING is recognized globally for the quality of its soccer coaching resources, which are used by over 40,000 soccer coaches from around the world. We wouldn't be offering Team Training the Goalkeeper unless it achieves our exceptionally high standards. However, if you are not 100% satisfied with the quality of the Team Training the Goalkeeper after six months of implementing its small sided games and exercises then please contact us for a no quibbles refund.
"Integrating your goalkeeper into team training is the smart, modern approach to soccer training. And your defensive record will prove it too."
Whether you are coaching a youth team, at college or an elite team to perform at the highest level, every team can benefit from soccer drills and exercises that integrate the goalkeeper. Rather than left to work on their own or with a specialist coach, Team Training the Goalkeeper shows you how to coach training sessions in which the goalkeeper is an integral part. The result is a more cohesive team, both in spirit and shape, that's drilled in the modern demands of defense and goalkeeping.
In addition, the 40+ soccer drills and exercises in Team Training the Goalkeeper will enable you to observe and analyze any problems your goalkeeper or defensive structure might have before games. You can then apply the relevant training exercises so that any weaknesses can be strengthened and you can step onto the pitch with the confidence knowing your goalkeeper is fully prepared for any scenario.
Best Wishes,
Mike Saif
President
P.S. Team Training the Goalkeeper is a comprehensive guide to coaching over 40 soccer drills and training sessions that integrate the goalkeeper. Through this approach, you can improve team chemistry, your team's shape and defensive performance as a whole, which in turn means fewer goals conceded and more victories.
P.P.S If you are not 100% satisfied with the quality of the soccer coaching resources in Team Training the Goalkeeper after six months then we will refund your purchase in full, no questions asked.