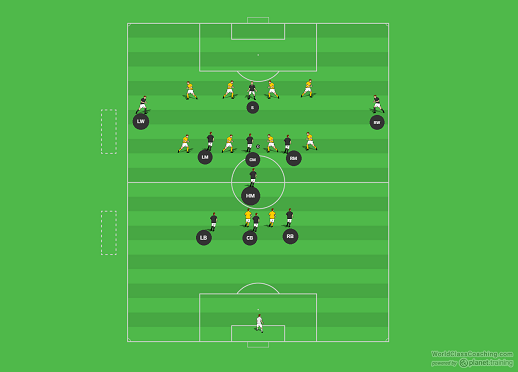 By Wayne Henderson –
Sometimes shooting drills can be geared towards giving the teams strikers some much needed confidence and as a result the goalkeepers are not in the thinking of the manager or coach when planning out the session. This means that the goalkeepers can feel dejected as shot after shot fly past them into the net.
This drill concentrates more on the positioning, decision making and shot-stopping aspects for the goalkeepers as well as giving the strikers different types of link up play and shooting practice.
The set up is as follows-
4 mannequins as defenders placed along the edge of the 18 yard box as shown.
The drill starts with the striker moving away from the defensive mannequin.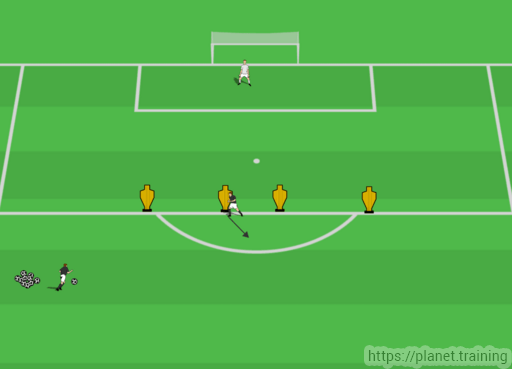 The attacking player then plays the pass to the striker, the goalkeeper then adjusts his/her position to be ready for the striker to shoot.
From this position the striker now has 3 options.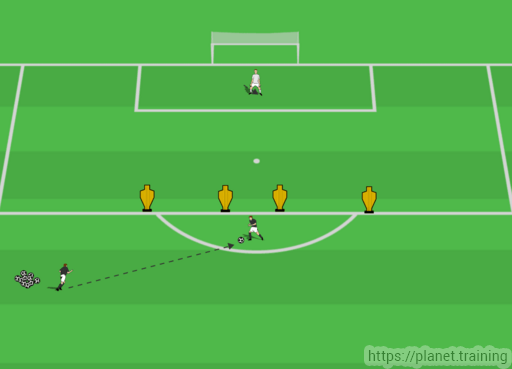 Option 1
The striker controls the pass and as quickly as possible and finds space away from the mannequins to strike a shot at goal. As shown below.
The goalkeeper must now be in a good, well balanced ready position to make a sharp save from the striker. The striker must also work on the quality of their first touch in order for them to get the shot at goal away quickly.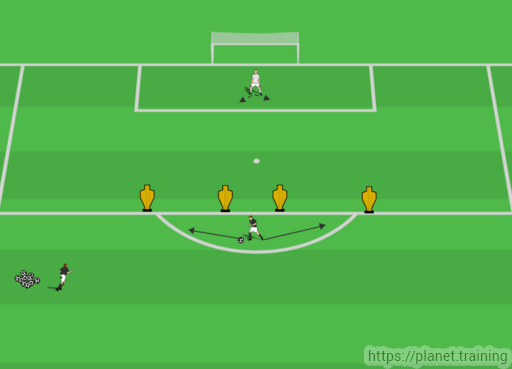 Option 2
The striker returns the pass to the attacking player who takes a first time strike at goal. Again the goalkeeper is looking to move sharply into position and be ready for the 1st time strike from the attacking player. The striker must concentrate on delivering a well weighted pass in order for the attacker to strike at goal with a 1st time shot.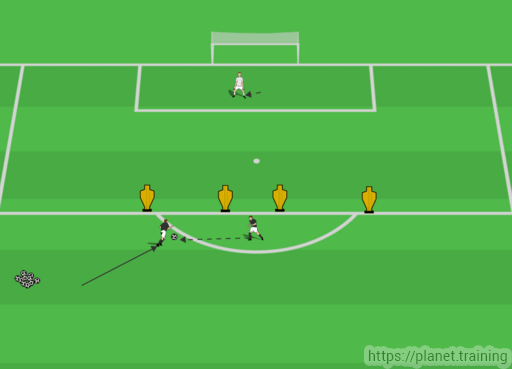 Option 3
The striker passes a ball in-between the defenders as shown below for the attacking player to move on to and strike at the goal.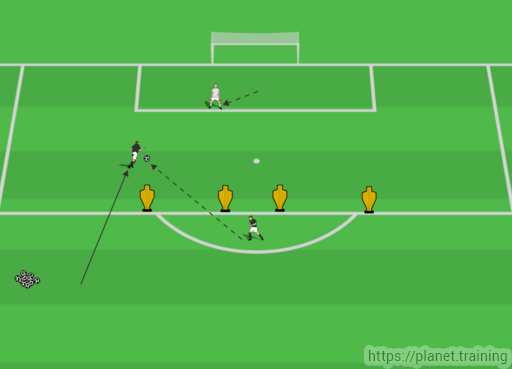 This option is the toughest to execute, because the striker must now deliver a well weighted and accurate pass for the attacking player to move on to.
This pass adds the decision making process to the drill for the goalkeeper, for example the goalkeeper has to quickly assess the weight of the pass and decide if he/she can get to the ball before the attacker.
If the goalkeeper can get to the ball before the attacker the 'keeper comes out quickly and collects the ball, if the goalkeeper can't get to the ball first, he/she must adopt a position that can close the angle down but still be ready and balanced to make the required save.
Especially with the 3rd option you can allow your strikers to take 1 touch to control and 1 touch to pass the ball, depending on the age and ability of your players, although the drill works best when the pass is delivered 1st time.
By Wayne Henderson